Shop Princess Diana's Best Fall Fashion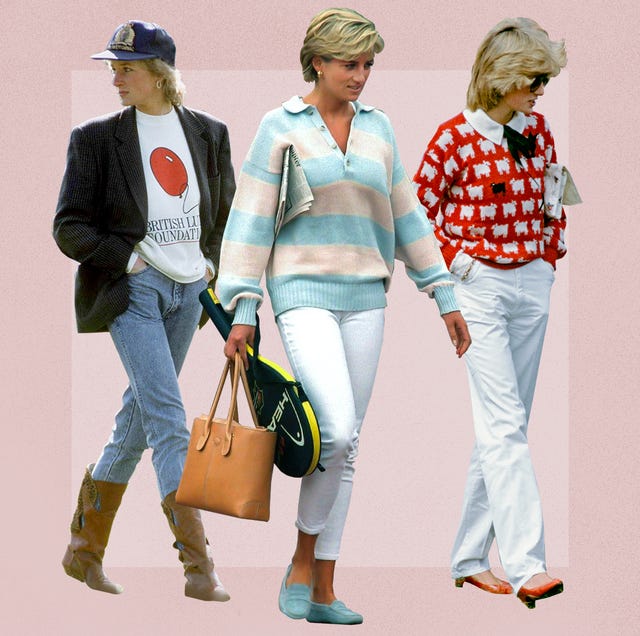 Getty Images/Michael Stillwell
Advertisement – Continue Reading Below
Black Sheep Sweater
Kate Middleton and Meghan Markle weren't the first royals to expertly send subtle messages through their fashion choices. In fact, their mother-in-law was a master at it. This infamous Warm & Wonderful sweater that Diana wore on numerous occasions was believed to be a subtle nod to her perceived place in the royal family at the time.
Warm & Wonderful Women's Sheep Sweater
Trousers Tucked in Cowboy Boots
Cowboy boots and trousers aren't two pieces you'd expect to go together, but Diana somehow executed the trend perfectly throughout the '80s and'90s. And now that western style has made its resurgence, the coming season couldn't be a better time to wear it out and about.
Oversized Check Blazer
Plaid for fall? Groundbreaking.
The Oversized Blazer – Glen Plaid
High-Waisted Jeans With Flats
High waisted denim with girly flats is a timeless pairing, as Diana demonstrated while on a school run in 1992.
MANGO High Waist Straight Leg Mom Jeans in Dark Blue
Camel Coat
If you needed any more convincing as to why you need a camel coat this fall, just look at how elegant Diana looked in one in 1982.
Oversize Belted Coat in Medium Brown
Crewneck Sweatshirt
Leave it to Diana to make casual sweatshirts look chic. While attending a polo game in 1988, the trendsetter wore a British Lung Foundation sweatshirt with a black blazer and baseball cap, and jeans tucked into cowboy boots.
British Lung Foundation Sweatshirt
Tennis Sweater
Just in case you needed another reason to add an on-trend tennis sweater to your wardrobe this fall.
Malaine Embroidered Cable-Knit Sweater
Sporty Ensemble
One of Lady Di's favorite looks during the '90s included a mix of oversized graphic sweaters, biker shorts, crew socks, and chunky dad sneakers. And more than two decades later, the sporty ensembles continue to be in fashion.
Princess Diana Diana Fly Virgin Atlantic Sweatshirt
Sweater With Polished Trousers
Sure, a sweater and a pair of jeans will always be a classic fall outfit, but the sweater-and-trouser combo will take your autumn look to next-level chic. Pair your knit over a white button down and pinstriped trousers as Diana did back in 1986.
Classic-fit washed cotton poplin shirt
Will Wide Leg Pinstripe Pants in Deep Blu
Statement Collar
Frilly, wide collars were practically synonymous with Princess Diana. She always opted for an oversized neckline—and it's not hard to see why. Whether it's on a dress or blouse, the prim and feminine adornment will add a touch of pizzaz to any simple dress.
Printed Statement Collar Blouse
Contrast Sweater
A white jumper with a contrasting hue—like the one that Diana wore in this photograph—is seriously stylish and will freshen up any low-key look during the crisp season.
Sarysu Contrast Collar Sweater in White W Red
This content is created and maintained by a third party, and imported onto this page to help users provide their email addresses. You may be able to find more information about this and similar content at piano.io
Advertisement – Continue Reading Below
https://www.townandcountrymag.com/style/fashion-trends/g40850438/shop-princess-diana-fall-fashion/